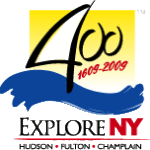 2009 marked the 400th anniversary of Hudson and Champlain's voyages along the river and lake that bear their names -- and the 200th anniversary of Fulton's successful steamboat voyage and establishment of steam commerce on the Hudson River.
In cooperation with the Hudson-Fulton-Champlain Quadricentennial Cultural Education Center, the NYNPA Newspaper In Education Program created a 10-part NIE educational series with extensive links to other educational materials and a teachers' guide.
Please click on any of the listed items to view or download that PDF file.
Hudson-Fulton-Champlain 10-part Series
Quadricentennial Teachers' Guide
Additional Resources
These features were originally created for our Famous New Yorkers series and The Rule of Law, 2008. They are provided here for quick reference as a convenience.
Sponsored by